Hanging Vinyl Tag Protectors
Order popular sizes of clear hanging vinyl tag protectors from stock below. Tag protectors are also available with an adhesive back and with magnetic strips on the back of the vinyl tag protector.

High-quality clear flexible vinyl plastic hanging ticket tag holders, pockets, sleeves, pouches with reinforced header and hang hole (or holes). Attach these holders to a warehouse shelf or rack, storage bins, file cabinets, and more. This versatile protective vinyl sleeve is used worldwide in industrial settings to clearly mark inventory, identify parts for repair, tag machinery, valves, controls, switches and an infinite number of other uses. The tough, heavy-duty 8-gauge, 8-mil clear vinyl is suitable for using with barcode scanners. Change the inserted document as often as you like. There are endless uses for vinyl tag protectors! Please contact us for information about custom sizes of vinyl tag protectors as well as custom colors, printing, metal eyelets, brass grommets and large quantities.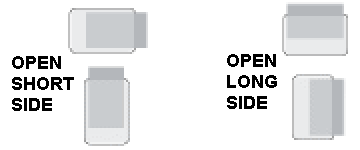 Order you clear flexible plastic vinyl tag protectors from this category overview page in the table below or click on a product name for more detail on that product. All products are sold in packs. For more details on the pack quantity click on the product name to go to the product detail page.